Private Group members are able to create, or join, a Team of 3-10 teammates. They are also able to form a Partnership with one other member from the Private Group.
You can only be in one Team and one Partnership for each Private Group that you belong to.
Even better, you can play Oopla Solo for free!
Create an account and play Oopla on your own, or become a subscriber, join groups and enjoy playing Oopla with others.
If you end your subscription (we will miss you), your account falls back into Solo (unless you request us to delete your account) until you re-subscribe and re-join the groups again.
If you are a Subscriber, you can access Group Leaderboards.
Above every Leaderboard you'll notice up to seven options to apply filters to the Table below. This will create changes to your view that will help make the table as relevant as possible.
Adjust the view so that you can see only people from your Country, or in a similar age band and gender, or averaging the same amount of Daily Activity as you, as well as League and Level.
In Country and Gender you can choose Group By to view the average of all relevant users in the Table.
Private Group Owners can also create two additional filters to add to the above options.
Adjust your settings in your Account to be excluded from any filter searches. For Age Group exclusion, change your DOB so that you're over 100 years old.
It depends.
All activities require a dedicated time and must be more than 10 minutes in duration. All activities should also be what each person counts as their daily exercise and what contributes towards the WHO Guidelines for Physical Activity.
If your housework meets these guidelines, you may include it as Gardening/DIY at your discretion.
Unfortunately not.
This might not be an entirely popular decision, but we have chosen not to permit e-vehicles (bikes, scooters, skateboards etc) to score any Oopla points
Absolutely!
We love it when an Organisation joins Oopla. All it takes is for one person (the group owner and bill payer) to create a Private Group.
Once Group Size is determined and payment set, the Group Owner can use their secret link in their admin panel to invite others to join. Once a person requests to join, the Group Owner can grant permission to join and also to provide admin permissions to allow other members to enter the group too.
Each person who joins uses 1 credit.
You have complete control over your visibility.
The Leaderboard provides a summary of your results and Oopla Score, but no-one except you can view the details of your Activity Log.
You can choose to use Stealth Mode in your personal settings and this will hide your name on the Leaderboard. You can also choose "Rather Not Say" for Gender and "Not Declared" for County and if you make yourself older than 100 you can disappear from age view.
In Solo, only you can see your own statistics. When you become a Subscriber, other people will be able to see you (or your Stealth Version) on the Leaderboard.
Every Activity has a milestone target to aim for. Accumulate Time or Distance in an Activity to work towards that the target and earn 10 points for every Milestone you reach.
There are NO restrictions on how many Milestones you can earn, but be aware, incomplete Milestones are reset on Day 1 of each Challenge, so earn them before Day 28 is complete.
Make sure the Activity you Log meets specific Milestone criteria to qualify, these may include Duration, Distance, and/or Pace.
In your Activity Log, you will be able to delete an Oopla entry that contains an error using the delete button and then re-enter it again correctly using the + button.
If the activity has come from an external source (such as Strava), go to that source and edit, crop or delete it there and it will automatically update in your Oopla Activity Log.
Always make sure you do not have any duplicate entries in your Activity Log. Please delete where appropriate.
Your Oopla Score is a reflection of how efficiently you earn your points.
You're aiming to score 1 point (or more) for every 10 minutes of time that you log.
If you achieved this, you would have a perfect efficiency of 1.000 and your Oopla Score would be an exact match with your Total Points.
To grow your Oopla Score, make sure to earn your milestones efficiently, keep up your Active Days and also reach the Weekly Bonuses and complete your Chase.
Maximum Points in Minimum Time is the Challenge.
Go to your Activity Log using the + Symbol to add an Activity Manually or connect to one of our third-party connections to add Activities Automatically.
If you have connected to Strava, make sure that you are recording to the correct Strava account by clicking the Strava Athlete link in the Add Activity page to check.
If you need to disconnect this account, please use the Unlink Strava Account button.
Also ensure that this is the matching Strava account you have logged into on your Smartphone or have any external devices pairing to.
We recommend you open oopla.app on your Smartphone or Tablet and then use the function "Add to Home Screen" on iOs and Android to make it appear as an app on your home page.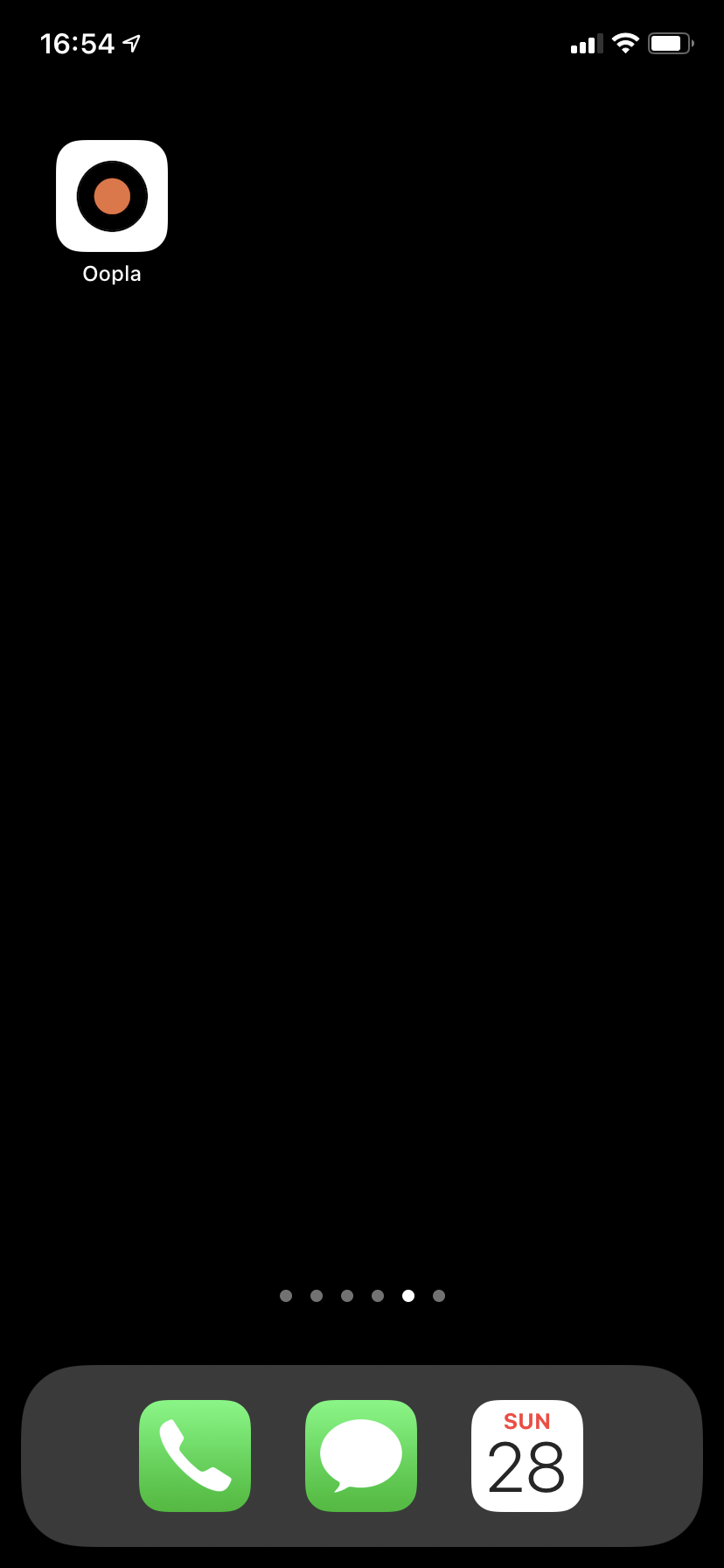 There are 5 ways to score points in Oopla:
The Dailies (120 points)
Earn 1 point for every 10 minutes of Activity logged each day.

Earn a maximum of 6 points per day.

Earn a maximum of 30 points per week (Monday to Sunday).

Earn a maximum of 120 points in a 28 Day Challenge.
The Milestones (Unlimited)
Every Activity has a milestone target to aim for.

Accumulate Time or Distance in an Activity to work towards each target.

Activities must meets specific Milestone criteria to qualify (duration / distance / pace). Download

There are 10 points available for every Milestone.

There are NO restrictions on how many Milestones you can earn.

Milestones reset and start again every time you earn them.

Incomplete Milestones do not carry over into the next Challenge.
The Active Days (40 points)
A day with 30 minutes or more Activity is an Active Day.

This can be multiple different Activities, as long as each Activity is at least 10 minutes in duration.

Register 12 Active Days to earn 20 points.

Earn a Maximum of 40 points in a 28 Day Challenge.
The Chase (20 points)
Beat your Oopla Score from the Challenge that you've just completed.

Earn 20 Points.

Unavailable for your first Challenge.
The Weekly Bonuses (40 points)
Complete a Weekly Challenge.

Earn 10 Points per Weekly Bonus.

Weekly Challenges are notified in the Oopla Dashboard.

Earn a maximum of 40 Points in a Challenge.
Join anytime and start using Solo or become a Subscriber and play with others.
Alternatively, receive an invite from a Private Group Owner who pay your subscription for you for a period.
At Oopla, we pride ourselves how we look after your data.
We collect only the data that is necessary to take part in Oopla and provide you with abilities to control your visibility in your account settings.
All communication is done via SSL, all passwords and personal identifiable data, such as your Name are stored encrypted in our database. All payment info is processed by Stripe. 
You can log any of the following activities:
Walk, Hike, Run, Virtual Run, Cycle (Ride), Virtual Ride, Velomobile, Swim, Ergometer (Indoor Row), Ergometer (SkiErg), Golf, Wheelchair, Handcycle, Strength Training, Crossfit, Weight Training, Yoga, Pilates, Gardening, DIY, Dance, Alpine Ski, Backcountry Ski, Snowboard, Snowshoe, Rockclimb, Windsurf, Surfing, Kitesurf, Incline Skate, Ice Skate, Kayaking, Rollerski, Standup Paddling, Outdoor Rowing, Team Sports (e.g. Soccer, Hockey, Cricket, Netball, Rugby, Basketball, Ice hockey), Individual Sports (e.g. Tennis, Squash, Table Tennis, Boxing, Martial Arts, Gymnastics), Stairstepper, Elliptical, Workout.
If your Activity is not included in this list, please choose Workout.
Note E-Bike, E-Scooter, E-Skate Rides not included.
Choose an Activity you would seek to do as part of your daily exercise. This could be walking, jogging, gardening, yoga, playing sports or any type of workout that you enjoy doing. 
Earn points by logging your Activities in your Activity Timeline, then build up an Oopla Score every 28 days and across the whole year.
All Activities, regardless of their intensity, at all times must be at least 10 minutes in duration.
Every Challenge is 28 Days in duration and the scoreboard resets on each Day 1. Each Oopla score is banked at the end of each Challenge and builds across the entire year so you can compete against yourself every year and beat your own personal best.
To be part of the Oopla Community, you are agreeing to the following rules:
Be Honest
All Activities are your own
All Activities have Integrity
All Activities are what you're claiming as "Your Daily Exercise"
All Activities logged means you've dedicated time towards them
The Activity is the main focus of that dedicated time
All Activities are deliberate and intentional

Be Correct
All Activities must be at least 10 consecutive minutes in duration
Activities must be of Moderate or Vigorous Intensity (relative to person)
Activities considered be "Muscle Strengthening" or "Muscle Lengthening"

Be Accurate
All Activities are required to be measured accurately
All Activities require you to instigate and control a timing device
All Activities should only report the "Moving Time" (the time spent active within the entire measurement)
Pay close attention to the Criteria for Dailies, Milestones, Active Days, Chase and Weekly Bonuses
Edit or Delete Erroneous Activities from your Activity Log
No Duplicates in your Activity Log

Respect Everyone's Privacy
Being part of this group requires mutual trust. Authentic, expressive discussions make groups great, but may also be sensitive and private. What's shared in the group should stay in the group.
Be respectful to all other people in the Challenge at all times
Be aware that people have many different motives to participate
Be aware that people have different objectives they wish to achieve
Be aware that Oopla is not a competition
Be aware that everyone is welcome

Be Kind and Courteous
We're all in this together to create a welcoming environment. Let's treat everyone with respect. Healthy competition is natural, but kindness is always required.

No Promotions or Spam
Give more than you take to this group. Self-promotion, spam and irrelevant promotion are not allowed.

No Hate Speech or Bullying
Make sure everyone feels safe. Bullying of any kind isn't allowed, and degrading comments about things like race, religion, culture, sexual orientation, gender or identity will not be tolerated.
Oopla provides a set of targets for individuals who are motivated by achieving goals. You can see you status at the top of your Solo Page.
You can grow your Oopla Status by growing your Annual Score. When you start Oopla, you begin on Level 1 and once your Annual Oopla score increases by 250 you will reach the next Level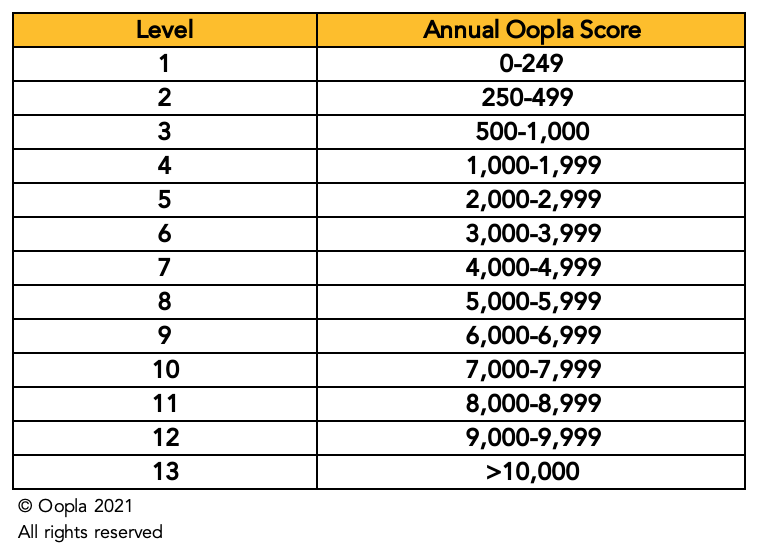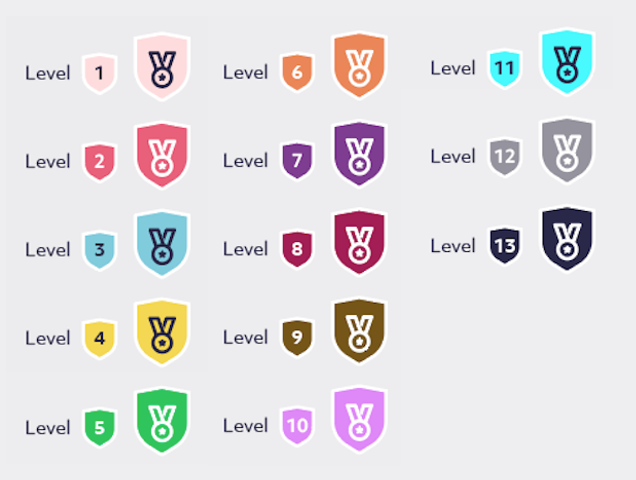 After your first Challenge, you are automatically placed into a League based on your Oopla Score. Maintain your 28-day average to stay in your League with all others who are doing the same, or improve your average to gain a promotion and join a higher League. But look out, if you allow your average to slip you'll face relegation!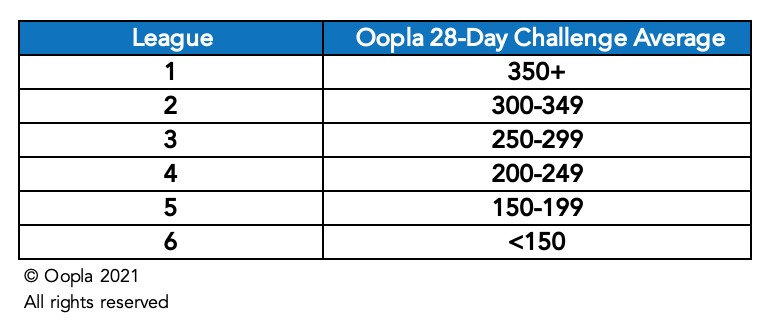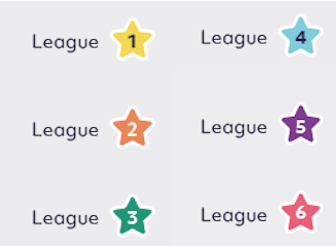 Oopla provides multiple user benefits as there are so many ways to play. These are some of the most common that we keep hearing through all our feedback.
Oopla helps people build daily habits. Our points system is highly motivating to produce regular activity.
Oopla impacts how I structure my day. Rather than having a device that counting steps without you noticing, Oopla prompts you to plan for your activity and make you decide what, where and when you'll go and do it, making it a front of mind decision every day.
Oopla gets me outdoors more. Due to many of the Activity measurements requiring a GPS signal, it encourages more time outdoors which brings several benefits from fresh air and time in nature, creating opportunity for lots of new, positive experiences.
Oopla is very motivating. You can determine how you play Oopla, whether in Solo and chasing personal goals or as a Subscriber and playing with others. You can also create a Partnership as well as join a Team of 3-10 people.


Oopla makes me feel good. You will feel so much better for being regularly active. Expect your health and mood to improve and you'll have a lot of fun playing Oopla too.
Once you become a Subscriber, you are automatically placed in Oopla Global our default Open Group with ALL other subscribers.
You can use different filters on the Leaderboard to create a personal view that allows you to compare yourself with others.
You can join other Open Groups and accept invites from any Private Groups that seek your presence.
An "ergometer" ("erg" for short) is a device that measures physical work. Indoor Rowers or a SkiErg are ergometers and the measurement of work sets them apart from many other exercise machines on the market. Here are a few examples: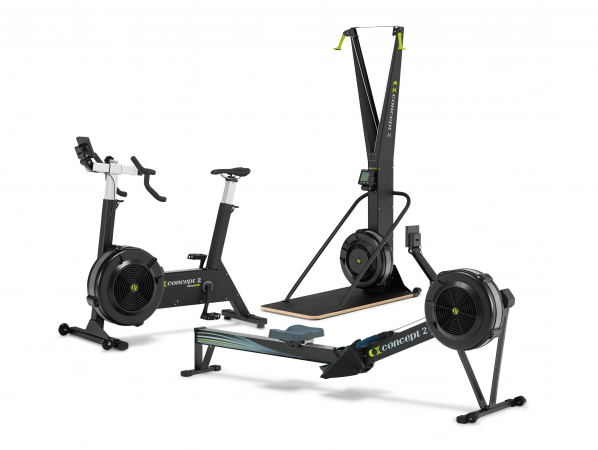 Efficiency reflects how well you can earn points in Oopla.
If you can earn 1 point for every 10 minutes of Activity Logged, you'll have a perfect efficiency of 1.000
The aim is to gain maximum points in minimum time, this will give you a higher efficiency and a fantastic Oopla Score.
Total Time (otherwise known as elapsed time) is the full length of time from the time-of-day you start your activity to the time-of-day you finish the activity. It includes stoplights, coffee breaks, bathroom stops and stopping for photos.
In Oopla, we focus on your moving time, which is the proportion of the Total Time that reflects movement or effort.
For example, if you were out walking from 4pm to 5pm precisely, that would be a Total Time of 60 minutes. But if you stood still at traffic lights for 1 minute waiting for the lights to change (please do always take care), your Moving Time would be 60 minus 1 = 59 minutes.
GPS data will attempt to calculate this based on the GPS locations, distance, and speed of your activity and automatically produce a moving time which is what we use for calculating your points.
If you enter an Activity manually via Oopla, you should at least best estimate your "moving" time so to keep everything fair.
If you are performing Interval-based exercise, be aware that ANY stationary GPS movement will be subtracted, so we would encourage some light activity in your rest periods to avoid any disappointment.
If you are using a smartwatch, you can also sparingly press pause on your device for short moments to subtract stationary periods manually and avoid any surprises later. The Moving Time should never be drastically different to the Activity Total Time.
To create a more level playing field and to add a bit strategy to the Challenge, your Oopla Score reflects how effective you are in earning points.
To calculate the Oopla Score, we examine the points you've earned and how much time (efficiency) it has taken to gain them.
Efficiency reflects how many Points you earn for every Block of 10 minutes of Activity you've logged. For example, if you log 60 minutes of Activity on Day 1, you'll earn 6 Daily Points and have a perfect efficiency of 1.000. Alternatively, if you logged more than 60 minutes on Day 1, you'll still only earn 6 points and your efficiency will be less than 1.
To create your Oopla Score, we simply multiply your Points by your Efficiency.
Points X Efficiency = Oopla Score
Aim to have an efficiency above 1.000 and to have an Oopla Score higher than your points total.

For a bit of extra privacy on Leaderboards, you can select a Stealth Mode option in your account settings.
This will hide your name on Leaderboard Tables.
To maintain privacy, never reveal your Stealth ID to others.
Firstly, a walk is different than simply how many steps you do in a day.
You must choose to go for a walk for it to be counted as an activity and of course it must be at least 10 minutes in duration to be counted at all.
The difference between a walk and a hike comes down to both location and distance/duration. The rules are:
Walks can be both outdoors or indoors (on a treadmill).

Hikes must always be outdoors and contain elevation (measured by GPS)

A Walk is 7.99km or less (over 1.5km to qualify for milestone)

A Hike is 8.00km or more
That's it.
Most Group Challenges will have a focus either on Quantity (how much you can do) or on Intensity (how hard or fast you can do it), or sometimes both. These are both fine, but the downside is that only a few people will find it competitive and therefore many other people disengage, drop out and never come back.
Step Challenges are an example of a Quantity Challenge and Race-Based Challenges are an example of Intensity Challenges. These are both favoured towards those who have more time or superior fitness. That's not necessarily a bad thing, but we have designed Oopla to be a platform for everybody.
Oopla is the #1 Group Activity Challenge App, meaning that you are required to record Activities (such as walk, hike, run, cycle, swim, yoga and many more) in order to build up your Oopla Score. This helps all our participants to reach the World Health Organisation's guidelines for Daily Physical Activity.
"Oopla is less about counting the steps you take and more about taking the steps that count."
Oopla impacts how you structure your day. How you earn points in Oopla motivates you to dedicate time towards physical activity almost every day. This repetition builds habit and this can be transformational with how our users work, rest and play.
Every Challenge is 28 days long and always starts on a Monday.
There are 13 Oopla Challenges every year.
Our 2021 Schedule: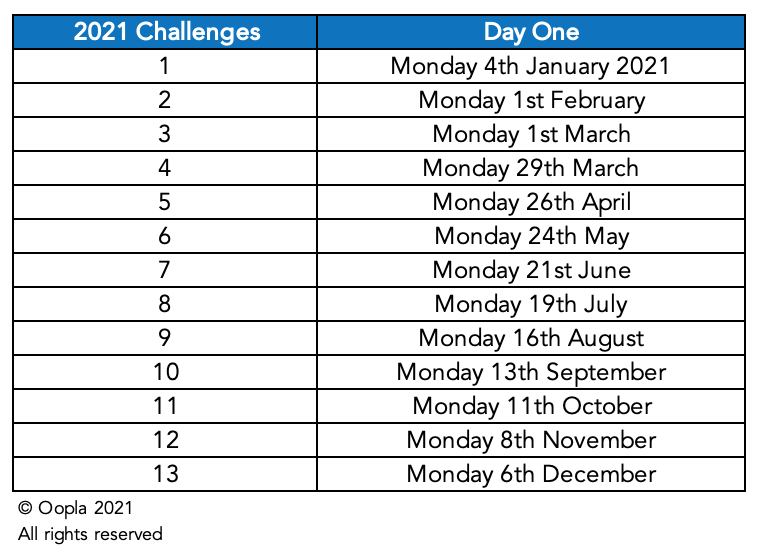 Our 2022 Schedule: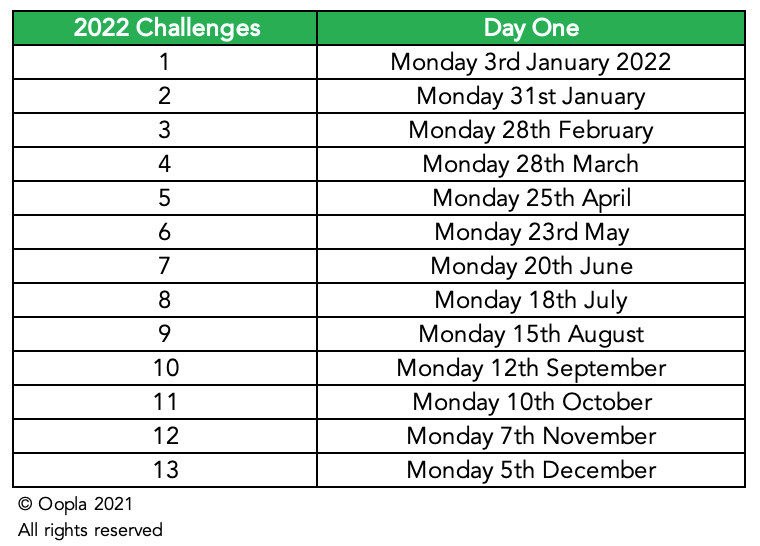 Everybody is welcome to play Oopla. It doesn't matter what level of fitness you have (none or lots) or how much spare time that you have (none or lots). We've purposefully designed it to be fully inclusive.
From couch potatoes to serious athletes, Oopla provides a wide variety of ways to play and keep our participants motivated.
Play Oopla Solo for Free, but only on your own. Alternatively, become a Subscriber to join Open Groups and play with others, or create a Private Group and pay for the subscriptions of all your members (a popular option for Workplaces).
If you have connected to Strava, make sure that you are recording activities to the correct Strava account by clicking the Strava Athlete link in the Add Activity page to check.
If you need to disconnect this account, please use the Unlink Strava Account button.
Alternatively, login to Strava on a browser (not through the Strava app) and go to Profile>>Settings>>My Apps and then revoke access to Oopla if it appears (if it doesn't appear it is not the correct Strava account), then go back to Oopla and reconnect it once more, taking care to enter the correct login details. To confirm, add a test recording to Strava to check it arrives into the Oopla Activity Log.

Also ensure that this is the matching Strava account you have logged into on your Smartphone or have any external devices pairing to.
We ask you to provide your DOB, Gender and Country so you can filter options on the Leaderboard to help make the Leaderboard more relevant for you. You don't have to supply us with this information and you can change your settings at any time, but you won't appear on filter searches if you choose not to.
Don't worry, it's easily done and easily fixed.
If you forget to switch off, but the device you've been measuring with hasn't physically moved anywhere, you've nothing to worry about as Oopla only takes your moving time.
If you've jumped into the car and driven home after your walk or run, you should open the session in Strava to edit it, choosing Crop and then remove the unwanted data. When you do this, Oopla also needs you to also edit the name of the session (e.g. "Afternoon Walk" to "Nice Walk") so it get's recognised as a new activity and it will automatically replace the old one with the error.
Any day with 30 minutes or more of activity logged.
This can be done in a single activity or in multiple activities, but all activities must be at least 10 minutes in duration.
For example, a 10 min Walk, a 10 min Run and a 10 min Cycle would equal 30 minutes and therefore, an Active Day
We know. It can be confusing!
Strava name all cycling activity as Ride.
If you horseride, add the activity using the Oopla Manual Entry as Individual Sports and claim the duration towards the Sports Milestone.
Possibly one of the most confusing activity entries!
If you record on Strava, you will choose "Row" and it will appear in your Strava timeline as "Rowing". It doesn't seem to matter if you're on an Indoor Rower or in a boat outdoors, Strava treat these both the same. Oopla defaults all Strava Row/Rowing to be outdoor rowing and the duration contributes towards the Sports Milestone.
If you're using an Indoor Rower and wish to add your distance towards the Ergometer Milestone, then add your activity as IndoorRow using the Oopla Manual Entry option.
Make sure, however, you do not claim the same activity twice, it has to be one or the other.
Hey, it happens.
If your technology lets you down, simply enter the correct session details manually on Oopla and if necessary, delete the failed recording so it doesn't pull through to your Oopla Activity Log.
Alternatively, if you were with someone else you could ask them to send you their recording, or add you as a friend on Strava to the session so that you get the credit for it too. Just open the session in Strava, choose edit and Add Friend who was with you (they need to be in your Strava connections and you need to allow at least your followers to view the session). If you like to keep your Strava sessions private, you can revet back to Only Me after you've added your friend and saved the session.